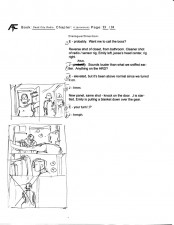 2012 04 09, 0219 – Renders and panel assembly finished. Not entirely happy with the last panel – two shots at it and the best place to put the word balloons looks kinda noisy. It's a huge improvement over the first draft but I may take another shot at it later this week. In the meantime I've put in a solid 12 hours on a client website (with comic renders bookending the day) and it's high time I gave my brain a rest.
If I wake up liking panel four then pages 4.22 and 4.23 are ready for line art. 4.24 should be rendered this week and I should have the time (and art supplies) to wrap the chapter before the end of the month.
2012 04 16, 18:26 – Pencilled and inked Sunday, cleanup and primary assembly late Sunday night and Monday afternoon. Ready for shadow-matching, render cleanup, word balloon tails, etc.
2012 04 16, 18:26 – Pencils, inks, clean-up and primary assembly in parallel with 4.22 and 4.24.
2012 04 17, 22:53 – Environment shadows, render cleanup, ready for shading and so forth. Rare instance of a curled word balloon tail in the last panel – I think it works, especially given the "dialogue" is more onomatopoeic than anything else.
2012 04 18, 23:42 – Shaded. Happy with some bits, less happy with others. As per usual!
Over-modeling various bits of kit Back In The Day paid off with some spiffy Render Porn in panel two – I've backed away from modeling props down to the rivets in recent years, but a few of the early Everything But The Insides pieces – the S-VHS deck, Templar radio and video phone, Holt-Rischmann visualizer, monitor – retain some utility (as mentioned previously), even if their scale is a bit wonky. Out of the geometry modeled explicitly for this scene, the dresser the pile of electronics sits on may get re-used. Possibly the hangars, if some future scene calls for a closet.
I won't rule it out. I spoke in the past of having no need for a bathroom or bedroom in apartment 608, and we all know how that turned out. While I have a good idea of what environment requirements look like for DCR.5 and the rest of Transitional Voices, everything else is up in the air.
Oh, and now you know why Emily wears a beret in public!
2012 04 20, 13:24 – Finalized.