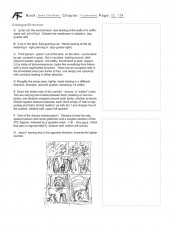 First page in over a month, first page of DCR with the aforementioned black gutters, first page of 2012. Also the most overtly sexual ATC's been in awhile.
Starting the year and what will hopefully be the home stretch of DCR with a "birth" scene seems pretty appropriate. Makes it a bit more than just an aesthetic transition.
Oh, and tons of work, if that wasn't obvious. The one-off CG environment and the base renders were done the week before last. Last week was nuts, and I didn't realize until Friday that I needed to do a ton of patch renders. Rolled on those while Jolie was in town. Got the pod contents done in parallel; pencils and inks Sunday night and shading this afternoon and evening. And goo. So much goo.
It's gooey.
Finally, a new page!
A page with a testicle! Though you'd need a magnifying glass to see it in hardcopy.
4.13 is ready for line art – it's a lot less complicated in the backgrounds department, though it'll still be a good amount of work. I plan to get started on that at some point this week.